Chris Moon MBE
Chris Moon MBE is a former Army Officer and his remarkable life story is one of consistently overcoming incredible odds.
Working for a charity, clearing land mines, Chris survived kidnap by the Khmer Rouge guerrillas in Cambodia, negotiating his way, and that of two colleagues, out of execution from a remote jungle base, finally walking 50km overnight through patrolled and mined jungle.
Chris was subsequently blown up by a land mine walking in a 'cleared' area and lost both his lower right leg and right arm. He survived against all the odds because of his high level of fitness and because of his knowledge of first aid. He competed in the London Marathon less than one year after this appalling accident. He is the first amputee to complete the Great Sahara Run, he has run the length of Cambodia, some 700km, and has completed the Badwater Death Valley Ultra 135 Mile 'Fun' Run in air temperatures close to Delia Smith's recommendation for slow cooking chicken!
Chris set up his own company MTB (Making The Best-his philosophy in life) and is a well-known speaker on the subjects of change management, motivation, leadership and the concept of limitation. His autobiography 'One Step Beyond' was published in 1999.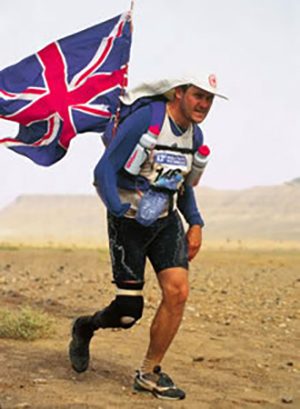 Mike Stroud MBE
Mike Stroud is best known for his record-breaking undertakings with Sir Ranulph Fiennes. He first teamed up with Sir Ranulph between 1986 and 1990 with several attempts to make an unsupported journey on foot to the North Pole from Arctic Canada and Siberia. These included a record breaking journey in 1990 which raised more than million for the Multiple Sclerosis Society. Following this, they switched their attention to Antarctica and the South Pole where in 1992/93 they succeeded in breaking several world records including the first unaided walk across Antarctica from coast to coast and the longest unsupported walk in history.
During the Trans-Antarctic trek, the two men covered more than 1400 miles without help from other men, animals or machines, dragging their supplies and equipment. In temperatures as low as minus 50 degrees C with winds which could exceed 100 miles per hour, they crossed frozen ice-shelves, climbed to the Polar plateau and descended one of the largest glaciers in the world.
On his return Mike was awarded the OBE for Human Endeavour and Services to Charity and the Polar Medal. The journey raised a further 2 million pounds for the MS Society.
Since that last Polar journey, Mike has continued his interest in extremes, leading the first UK team in the 1994 Marathon of the Sands – a Trans-Sahara multi-marathon. He then undertook the 1995 and 96 ultra-distance Eco-Challenge adventure races in which Teams use skills such as climbing, canoeing, horse-riding, rafting and mountain biking to race non-stop across hundreds of miles of back country. In the 1996 event, held in the mountains of Western Canada, his team 'Fit For Life' included not only Sir Ranulph Fiennes and Rebecca Stephens MBE, but Mike's 72 year old father Vic. In April 2002, Mike completed the first unsupported, non-stop run across the Qatar desert, covering 200 km in just 3 days. Most recently, in November 2003, he and Sir Ranulph completed 7 marathons, in 7 days, on 7 different continents.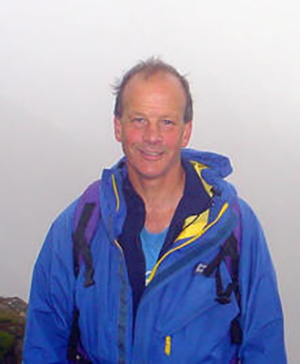 Jamie Andrew
Born in Glasgow in 1969 and is a Scottish mountaineer Jamie developed a love of mountaineering in his teenage years when he made successful ascents in the Alps, Dolomites and Yosemite Valley in California. He studied at the University of Edinburgh and became president of their mountaineering club. He then became an industrial rope technician, which involved abseiling off oil rigs, bridges and high buildings.
In January 1999 Jamie and his friend Jamie Fisher got caught in a storm after having climbed the north face of Les Droites in the Mont Blanc massif. Having made it up the north face the two men were beset by snow, winds of 90 mph and temperatures of -30°C for the following four nights. On the last night Fisher died of hypothermia. Despite having developed frostbite, Jamie survived the experience, being helicoptered off the mountain by the French rescue services.
Amputation of all four limbs was necessary to save Jamie's life from septic shock. After he recovered from the surgery, he spent several months in rehabilitation. After his first walk (with no hands or feet) up Blackford Hill, Andrew took part in skiing, snowboarding, paragliding, orienteering, running, hill walking, caving, rock climbing and mountaineering. He has walked up Ben Nevis, raising £15,000 for charity in the process, run the London Marathon in 2001 raising £22,000 for charity, made many ascents of 4,000 m peaks in the Alps and climbed Kilimanjaro with three other disabled mountaineers raising £5,000 for charity.
Jamie's story 'Life and Limb' is a MUST READ. According to Jamie his challenge for the future is his young daughter and twins who he has had with wife, Anna Wyatt.