Tuesday 29th December 7.30pm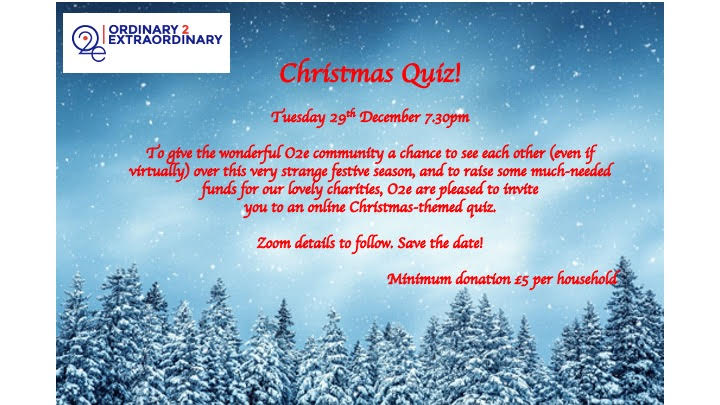 To bring a smile to the O2e family in what will be a very strange Christmas week, we are holding a virtual quiz on 29th December at 7:30pm. A good number of you will recall the fun we had with these in Lockdown 1, with the Hooters proving a formidable force (even if not at answering questions correctly!). The first series raised nearly £700 for O2e.
There will be a picture round, Christmas-related general knowledge, name-the-carols, guess the Christmas pop songs and general silliness all round. Breakout rooms will give you the chance for a natter and to debate the answers. You can form teams or play as a household – friends and family are also welcome.
No prizes – it's just for fun and to raise what we can to support our partner charities through an awful period. If you'd like to join in the mayhem, you need to do a few things to help it run smoothly on the night:
Send an email to quiz@o2e.org to register your interest. If you know who you'd like to form a team with, let us know.
Go to our Just Giving page and make a donation. We are suggesting a minimum entry fee of £5 per adult, but it's up to you (and you can donate anonymously). As always, all the money you contribute goes to our lovely charities.
If you are new to Zoom, download the app for your computer or tablet device and register for a (free) Zoom account here. Make sure you enter the same email account you used in step 1.
More joining instructions will be sent nearer the time.

See you all on Zoom, and thank you!
Best regards
Michael Brunker