News of two massive O2e events will dominate this newsletter; Sue Smith's Thames Bridge Walk and the Welsh Posse's cycling weekend in and around Abergavenny.  These are hugely enjoyable events that are thoroughly planned by Sue Smith and Nick John (respectively) to challenge and test even the hardiest walkers and riders, whilst providing less strenuous options for the less energetic. Both events received rave reviews in 2019 and we are all delighted that Sue and Nick will be organising these events again this year.  I also have a special mention to Michael Brunker,for reasons that will become obvious. But first….
Making a Difference…..the Sparkle charity says "thank you" 
A newsletter specifically prepared for O2e, give yourselves a warm pat on the back.
Click Here to Read
Sue Smith's O2e Thames Bridge Walk 
Happening on Saturday 23 May in London, Sue writes:
"I'm now organising the third annual London walk for O2e. Our 2020 Thames Path Challenge will take place on Saturday May 23rd and is open to everyone. Choose from two distances – approx 22 miles and 14 miles, each route zig-zagging back and forth across the Thames from Putney Bridge to Tower Bridge; a total of 16 bridges in all! To join the fun – the last two walks have been brilliant – all we ask is a suggested minimum sponsorship of £100 per person, 100% of which will go straight to O2e" 
Sue already has more than 30 people signed up so let me know if you fancy it or go to Sue directly at Sue Smith Thames Walk registration. This is a whole bunch of fun so don't miss out; the weather is likely to be a beautiful warm spring day, (don't quote me on that), and the route is right through the heart of this historic and scenic city.  But you'll need to get some training in as even 14 miles is a very long way.   

BY POPULAR DEMAND, IT'S BACK, AND
ENTRIES ARE OPEN
For THE POSSE'S


WELSH CYCLING WEEKEND 2020


06/07 JUNE 2020
Numbers strictly limited so register now to avoid disappointment at: https://o2e.org/2020/06/06/the-posses-welsh-weekend/
Squadron Leader Nick John writes:
It's happening again! This time based in the medieval walled town of Abergavenny, on the edge of the Brecon Beacons National Park and surrounded by beautiful countryside. As last year, arrive Friday evening, ride Saturday, a night out on Saturday evening, ride Sunday and then home. Routes are planned in outline, with easier options available for Saturday. See link above for more details. We're planning great scenery, unbroken sunshine, and a picturesque stop at a local vineyard, before covering the last 6 or 7 miles together in one big peloton as we did last year. And of course, the legendary Jamie's BBQ will feature at some stage during the weekend! Check out a small selection of the photies below from the 2019 ride…. More smiles than Shirley Bassey xxx
Entry
£205 will secure your place for the 2020 event. As before, and well understanding the difficulty of raising sponsorship, we'll ask you to add to this an O2e donation of £100 / £150 / £200, at your choice. Your £205 entry fee includes 2 nights B&B accommodation at Abergavenny Premier Inn (shared room basis), lunch stop on both ride days, Saturday night out in Abergavenny (food not booze!), ride support / feed stops, and event t-shirt. If you're up for it, don't waste this opportunity – we're limited to 40 riders (might squeeze a few more in) and have had so much interest after the 2019 weekend's success that we are sure that the 2020 event will be oversubscribed. https://o2e.org/2020/06/06/the-posses-welsh-weekend/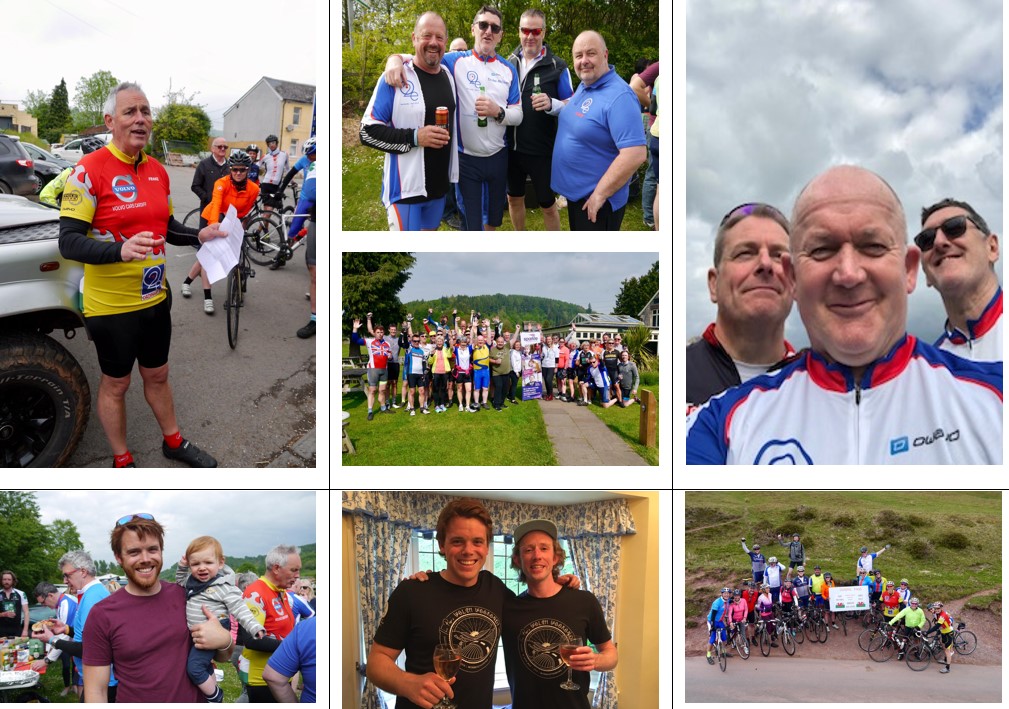 Michael Brunker – another 60th celebration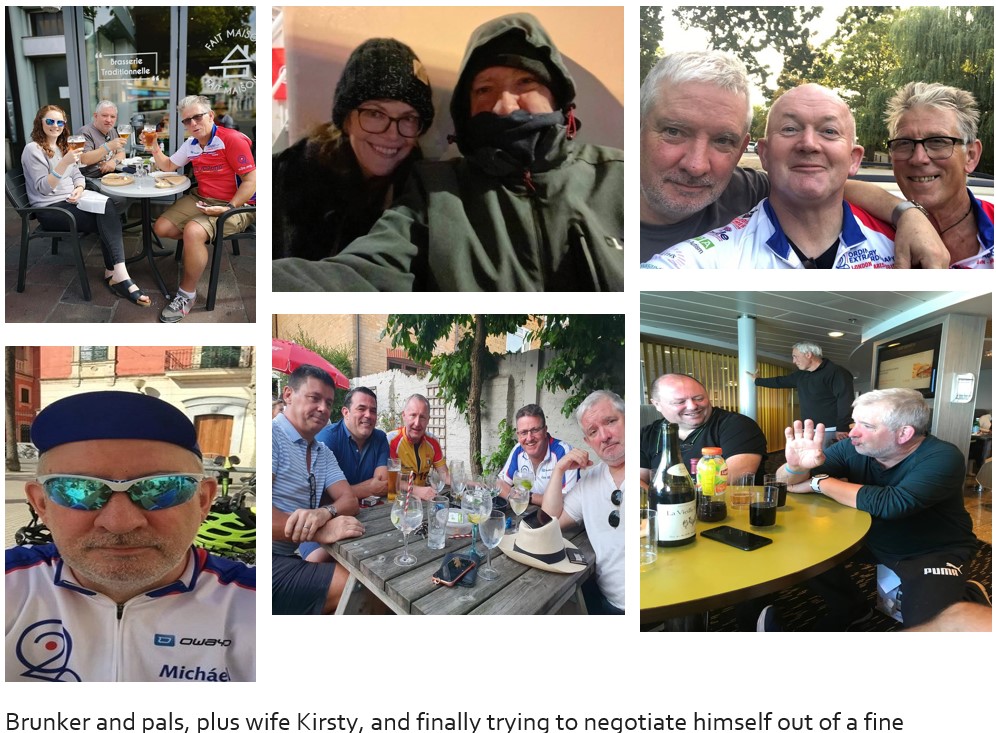 Michael Brunker will be known to many as a jovial Beckenham Rugby Cyclist who has supported rides and been an all-round good egg. More importantly (here) he is built more like a rugby player than a cyclist, which makes what follows all the more remarkable. In his 60th year Michael is going to seize the day and:
Improve his time up the knee trembling Sa Batalla climb in Mallorca – a switchback climb of 390m over 8km of road. That's May stuffed. 
Complete the BRC Hills Challenge on 12 July – as he points out, it's hilly and it's a challenge ; ) 
In August he will be in the pack for the Prudential Ride London (100 miles) including both Box Hill and Leith Hill.
In September he will be joining 150+ other riders (yes we are up to 150 registrations) for Big Kev's 2020 O2e bike ride from Dunkirk to Amsterdam via Bruges and Rotterdam.  A total of 250 miles in 2.5 days and definitely not for the faint hearted
Michael is regularly the guy at the back, but that has never diminished his enthusiasm for the finishing line.  He is a magnificent and terrifying beast in full flight (did I get that right Michael?) and more important he has never cycled 100 miles in his life.  Goodness me, I'm trembling at the pain….  To top it all Mrs B does a wonderful voluntary thing herself.
Come on ladies and gentlemen, let's dig deep and get Michael to his £1,000 target.  And Michael has generously promised to match donations up to £1,000 from his own pocket to the Croydon branch of the Samaritans, a cause supported by his wife Kirsty.  How good is that??  Good luck with the training Michael, we are with you all the way.  
Michael's just giving donation page 
Big Kevs Bike Ride to Amsterdam 
We are now at more than 150 riders!!! And the team are just back from a four day recce to check the route so that we all get clear guidance on locations, safety and security.  Thank you to Avril,
Chris, Rafe and John T.
The Giving Machine
Signed up yet?
Lots of love
Chairman DD Big Cheese xx
07764682332
dd@O2e.org.uk